learn
Our Humanitarian Training Courses 2022 are online
Find the training course made for you! Whether a recent graduate, an experienced humanitarian, a high school graduate or an employee looking to change career, whatever your profile or plan, find a training course to suit you at Bioforce among the 172 courses, in 14 countries and online.
14/12/2021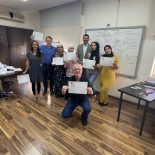 build
From trainee to trainer
Dr Qasem Abdelal is a German Jordanian University (GJU) professor in Water and Environmental Engineering. Two years ago, he underwent a Bioforce Training of Trainer (ToT) course. Last month, Qasem was THE Bioforce trainer in a ToT session held in Amman for humanitarian staff. And here is how it all happened.
25/10/2021